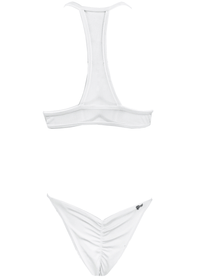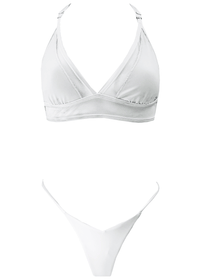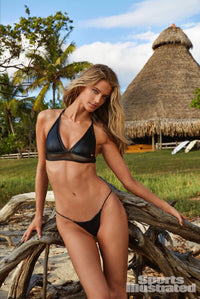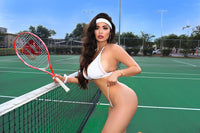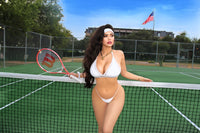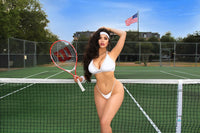 Skimpy Swimwear
Sunday Afternoon Fixed Bottom
This is the White version of The Saturday Night Suit that was featured on this years Sports Illustrated 2019.
The sun is always shining perfectly on a nice Sunday afternoon. This sexy WET White bottom is super slick! This WET LOOK CIRE' fabric is OG from the 80's. It has a highly glazed wax finish that is applied to the fabric which gives it that wet polished look. We love how this fit perfectly molds to your body to playfully accentuate your curves. These bottoms are double lined and have skinny strings that ride higher than the OG Signature bottoms. Same deep signature V in the front and in the back - finished with that peach shaping shirring down the center back. Perfect to stunt at a pool party or to rock under your favorite sarong. Catch that Sunday Sunshine with minimal Skimpy tan lines.  
Also check out the Black version of this sexy ensemble, The Saturday Night suit! 
Deep V in front and back 
Double lined bottom
Sterling Silver Plated Skimpy Logo Charm 
Model is wearing a size S