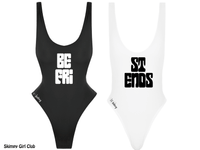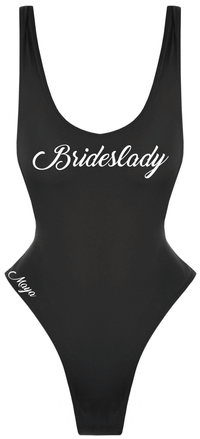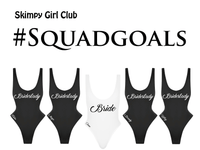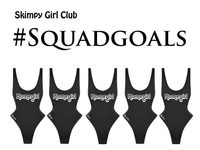 Skimpy Swimwear
Custom Girl Club Black One Piece
Customize the ultimate Girl Club suits to represent your clique! Choose from our Classic Skimpy One Piece or our Signature Skimpy Two Piece Bikini. Perfect for a Bridal Entourage, Special Ladies Trip, Sorority Sisters or for any of your #SquadGoals to stand out in a crowd! Each Skimpy can be personalized with a uniform heat transferred statement graphic and or custom embroidery so each Skimpy is extra special. 
The Classic Skimpy One Piece has a simple scoop neck with a high cut leg. The minimalistic silhouette is everything but basic. Finished with custom sterling silver Skimpy charm detail on the center back. Lined with a nude breathable fabric. Every detail was considered in designing this perfect one piece for you and your girls to rock it with confidence!
Our custom suits are made to order and are not produced in bulk. We do not compromise our quality by mass producing our suits, they are all made in small batches to ensure that your Skimpy is special. Each Girl Club is unique, and their Skimpy should be as well. Please allow 2-3 weeks for production before your order is shipped.
Ordering is simple! If you would like to order directly through our site, choose the style and appropriate size for each member in your Girl Club. In the notes section, complete your order by including your statement graphic, if they will all be uniform. If you are going to add a personal touch to your Skimpy, list the embroidered name next to the corresponding size/sizes.
For example: In the notes section-
Statement Graphic (Bride)/ White/Small - Statement Graphic (Bridesgirls)/Black/All sizes
Embroidery (Whitney)/White/Small (Jennifer)/Black/Small (Brittany)/Black/Small...
You may also contact one of our Girl Club specialists for larger orders at Bikinis@SkimpySwim.com!